Retail
Delivering Success in Today's Retail Environment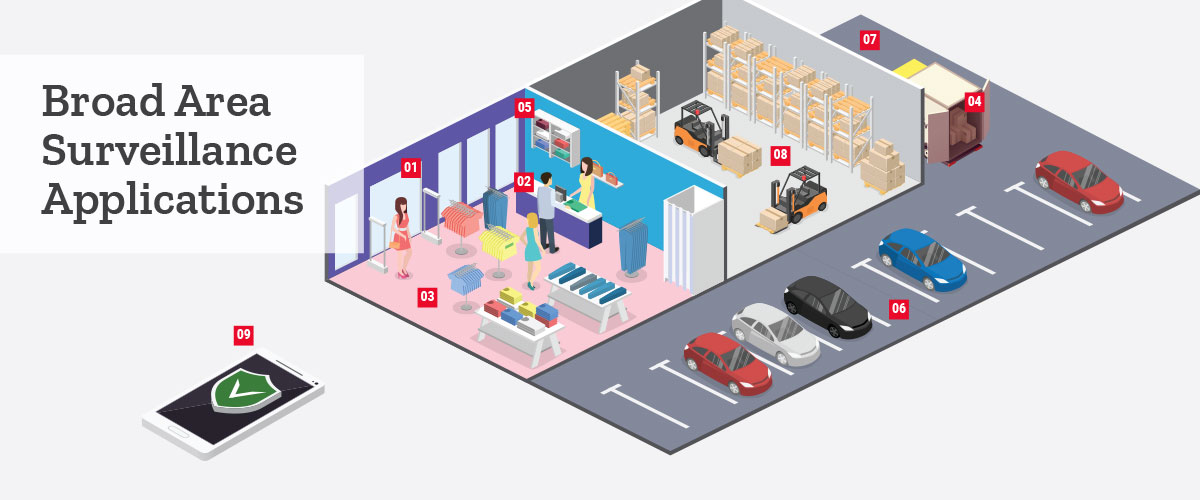 MAP
LEGEND
01

Store Entrances/Exits:

LightFighter camera technology allows for clear visibility and excellent video quality, even in harsh sunlight and high contrast conditions.

02

Server Room and Cash Room:

Ultra-low light cameras with DarkFighter technology capture highly sensitive areas. Access control can restrict access to servers, cash rooms, and other sensitive areas.

03

Sales Floor:

High megapixel fisheye cameras provide wide-area surveillance across open floor plans.
04

Stock Rooms/Deliveries:

High resolution cameras paired with edge analytics provide detailed content for shipment and stock verification on-site or remotely via mobile device.

05

Corridor Views:

Hikvision's mini camera is discreet and features 90-degree rotation mode for vertical-perspective, enabling capture of human activity and limiting wall coverage.

06

Parking Areas:

DarkFighter, ultra-low light technology, and multi-sensor imaging cameras cover the entire parking area, producing superior video and images with fewer cameras. This saves on installation costs and maintenance while providing adequate coverage for slip and falls or vandalism.
07

Trash Compactor/Dumpster Areas:

Hikvision's AcuSense and ColorVu technologies deliver full-color, accurate human detection and filter out other causes of motion, helping to detect dumpster diving or employee theft activity.

08

Warehouse Fulfillment Centers:

HikCentral mobile applications allow first responders the ability to remotely view video footage via smart devices.

09

Access on the Go:

Hikvision provides ease-of-viewing with live video, alarm notifications, and system health check status available on mobile phones or tablets.
Hikvision's Value and Cost Savings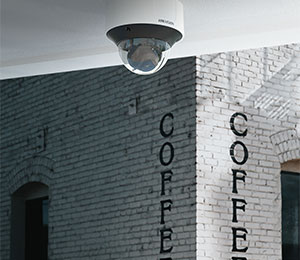 DO MORE FOR LESS:
Hikvision's value line of cameras, DVRs and NVRs allow retailers to deploy more technology while meeting budget requirements. Providing this level of savings coupled with Hikvision's less than one percent technology failure rate ensures retailers have access to the finest full-coverage security system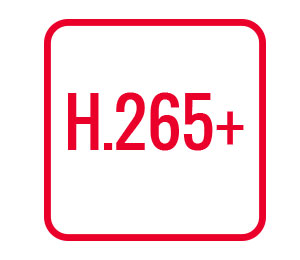 H.265+ COMPRESSION:
H.265+ video compression technology reduces video bitrate streaming between 60 to 80 percent over the current H.264 industry standard. Leveraging H.265 and H.265+ greatly reduces network bandwidth usage and lowers storage requirements, leading to significant cost savings and better video transmissions over limited bandwidth. This provides a lower infrastructure investment that delivers high quality video.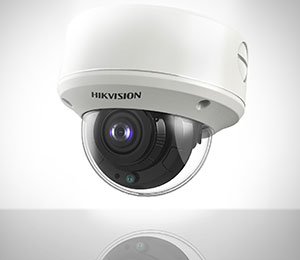 HD OVER COAX SOLUTIONS:
TurboHD, with resolutions up to 4K, facilitates the move to high definition video by utilizing existing coaxial cable infrastructure, saving time and money. A TurboHD solution can often save up to 30 to 50 percent when compared with a similar IP conversion project.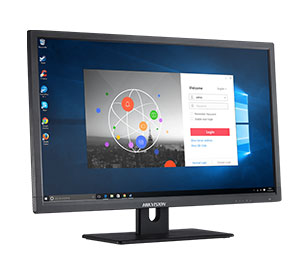 NO SOFTWARE MAINTENANCE FEES:
Unlike traditional central management software platforms that charge expensive annual software maintenance fees for access to the latest versions and feature sets, Hikvision does not charge retailers fees when they use HikCentral to manage multiple store locations. This benefit translates to an annual cost savings of thousands of dollars.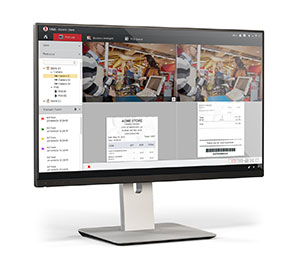 POINT-OF-SALE (POS) INTEGRATION:
Leveraging the HikCentral software platform to manage multiple store locations can potentially boost profits. The cloud-based point-of-sale integration merges POS data with associated video, providing better visibility into financial transactions. Utilize exception reporting to view trends and identify potentially fraudulent activity.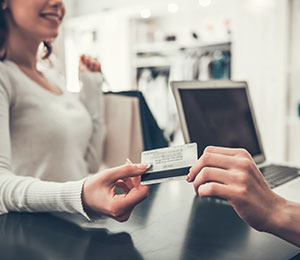 RETAIL-CENTRIC ANALYTICS:
Robust edge analytics are included in Hikvision cameras to enhance system productivity. These standard analytics coupled with Hikvision's retail-centric analytics such as queue monitoring, people counting, heat mapping, and POS integrations, ensure efficient operations.
Need help or support with a project?
Hikvision's Project Registration puts our partners in direct contact with their local representatives, allowing for quick and easy project support.
Helping Small & Large Retailers Maximize profits:
Whether you are responsible for a single retail store or thousands, Hikvision has a suite of solutions to help retailers maximize profits, ensure high quality customer service, and manage safety and security concerns. Enterprise-wide management of your stores from a centralized location is achieved with Hikvision's central management software system, HikCentral. A fully scalable system, HikCentral provides long-term sustainability and supports cutting-edge analytics such as human and vehicle detection, people counting, behavior detection, facial recognition, and point-of-sale integration. This robust platform meets the needs of budget-conscious retailers.
Proactive health monitoring facilitates continuous system operation and provides alarm notifications and access to key video via mobile phone or tablet.
In addition to centralized management, Hikvision's wide array of cameras meet many unique retail industry requirements with turret, dome, and bullet models. Specialty cameras such as thermal, multi-imager, fisheye, mini multi-sensor and mini PTZs offer additional options. DarkFighter technology provides clear, color images in extreme low light conditions, capturing parking lot events with poor lighting conditions.
Hikvision's comprehensive portfolio of security products is aimed at protecting retailer profits.
HIKCENTRAL CENTRALIZED
RETAIL ECOSYSTEM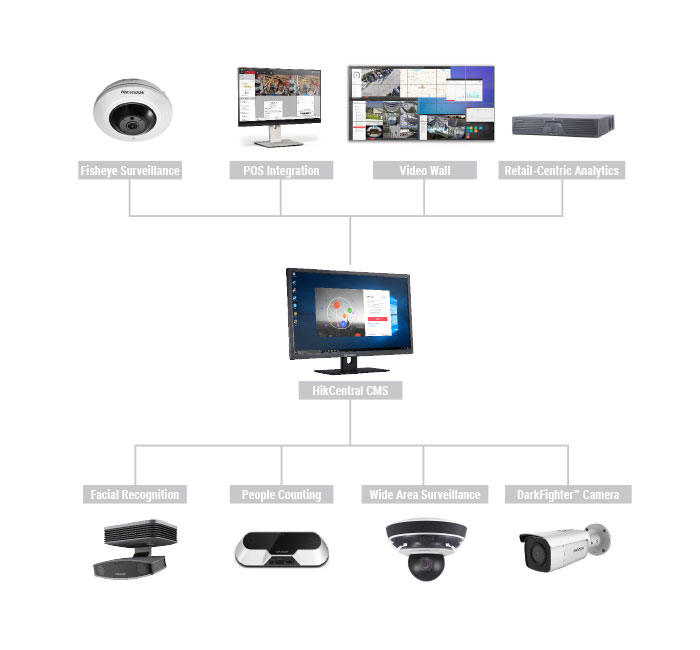 Featured products